From the beginning (2001), NSP teamed up with Cobra International to set the standard in technology and innovation by creating the first-ever epoxy surfboards and the first-ever sustainable CocoMat board.
Thailand-based Cobra factory has produced composite watersports equipment since the early 80s, and by 1999, they were the leading manufacturer of windsurf boards with over a 50% world market share.
This is big business, and the state-of-the-art production facility spans over 100,000m2. Composite manufacturing is hands-on requiring a high degree of craftsmanship and human input.

COBRA's reputation for delivering robust, light and beautiful composites worldwide is built on its talented staff's ability to mould, craft and finish products to exceptionally high standards.

COBRA is committed to providing a healthy workplace for their staff and their minimum wage exceeds Thailand's minimum wage by over 40%. Workers are encouraged to improve production processess and will be rewarded to do so, true to the Kaizen principle.

COBRA invests in R&D for environmentally friendly products that promote happiness and enhance the quality of life.
NSP boards come in a greener product packaging that protects your board from dust, debris and scratches when transported and eliminates the landfills from excessive amounts of plastic.
NSP are constantly looking for new ideas and innovative technologies to reduce the negative impact on our planet and adhere to the fundamental principle that every product produced must have some form of an environmentally sustainable component.
NSP stands for "Nature", "Surfing", and "Products" because that is what the company is all about.
NSP WORLDWIDE
NSP is a mass-market brand with a global distribution network and high-quality control. The tried and tested shapes are functional, consistently the same, and with highly competitive prices.
NSP is ideal for any surfer looking for an on-the-shelf option without breaking the bank.
The NSP range is vast, and there are many available shapes, Performance shortboards, grovelers, fish, performance longboards, guns and traditional logs.
Construction options range from cutting-edge lightweight performance to functional-shaped, bombproof rental boards that will last a lifetime.
Today, NSP is one of the world's largest brands in recreational surfing and stand-up paddle boards. Every day watersport enthusiasts, young and old, can go out and introduce their friends and family to the freedom of the sport through the NSP products and brand.
SHAPERS UNION
Shapers Union is a collaboration between NSP and several world-class shapers.
Established to bring new life, energy and high performance to the surf range, Shapers Union NSP's way to showcase the incredible talent of Shapers who have collaborated with World Champions, both from longboarding and shortboarding.
NSP is proud to have teamed up with Hawaiian-based Carl Schaper and the Australians Tully St. John, Kym Thompson, and Marcie O'Neill. All masters at their trade, these shapers create the shapes that allow top-level surfers to achieve the impossible while also providing grooms with the gear that enables them to hone their skills from entry-level right up to the tour.
CARL SCHAPER – SHAPER

With decades of experience in the shaping bay, Carl Schaper belongs to the higher echelon of shaper royalty on the Hawaiian island of Oahu. Knowing a thing or two about high-performance surfing, Carl shapes for some of the very best surfers out there, including a two-time longboard World Champion, pipeline charger and industry legends like Garrett McNamara (Guinness Book of Records for the biggest wave ever ridden).

MARCIE O'NEILL – SHAPER

Legendary shaper Marcie O'Neill, teamed up with NSP to bring new directions to the already popular Longboard Elements, Funboard and Fish shapes.

Marcie grew up surfing in Australia and started designing surfboards at the Aloha Factory in 1989. Coming from a traditional yet eccentric background, when you look a little closer at the lines and rockers, you will see how our longboard, funboard and fish have evolved in terms of performance and taken on Marcie's highly regarded style.

TULLY ST. JOHN – SHAPER

Tully St. John is the owner/shaper of the legendary Laguna Bay Longboards from Noosa Heads, Australia. Down to earth and heavily involved in the local long-boarding subculture, Tully has been shaping since his early days in high school. His shapes are being used by multiple World Champions, right through to everyday surfers, wanting something truly exceptional under their feet.

KYM THOMPSON – SHAPER

Starting at the young age of 15, Kym Thompson made designing surfboards his life's work, designing and shaping everything from single-fin boards right down to all possible multi-fin configurations. Originally, Kym began his career shaping longboards and as the shortboard era took hold, Kym advanced his skills and transitioned his designs to meet the demands of the market.
It is with great sadness that we have to announce the passing of Kym Thompson on November 1, 2022, our amazing friend, gifted shaper and hard-working colleague. Our thoughts are with the Thompson family and friends.
Mr Thompson, originally from Victoria, created the iconic surf brand 'Water Cooled' in the 1970s following a successful shaping career for the brands Ripcurl, Klemm-Bell and Pat Morgan.
He then moved to Thailand to work with surfboard manufacturer Cobra International and was with NSP from the beginning.
His legacy will live on through his surfboard shapes!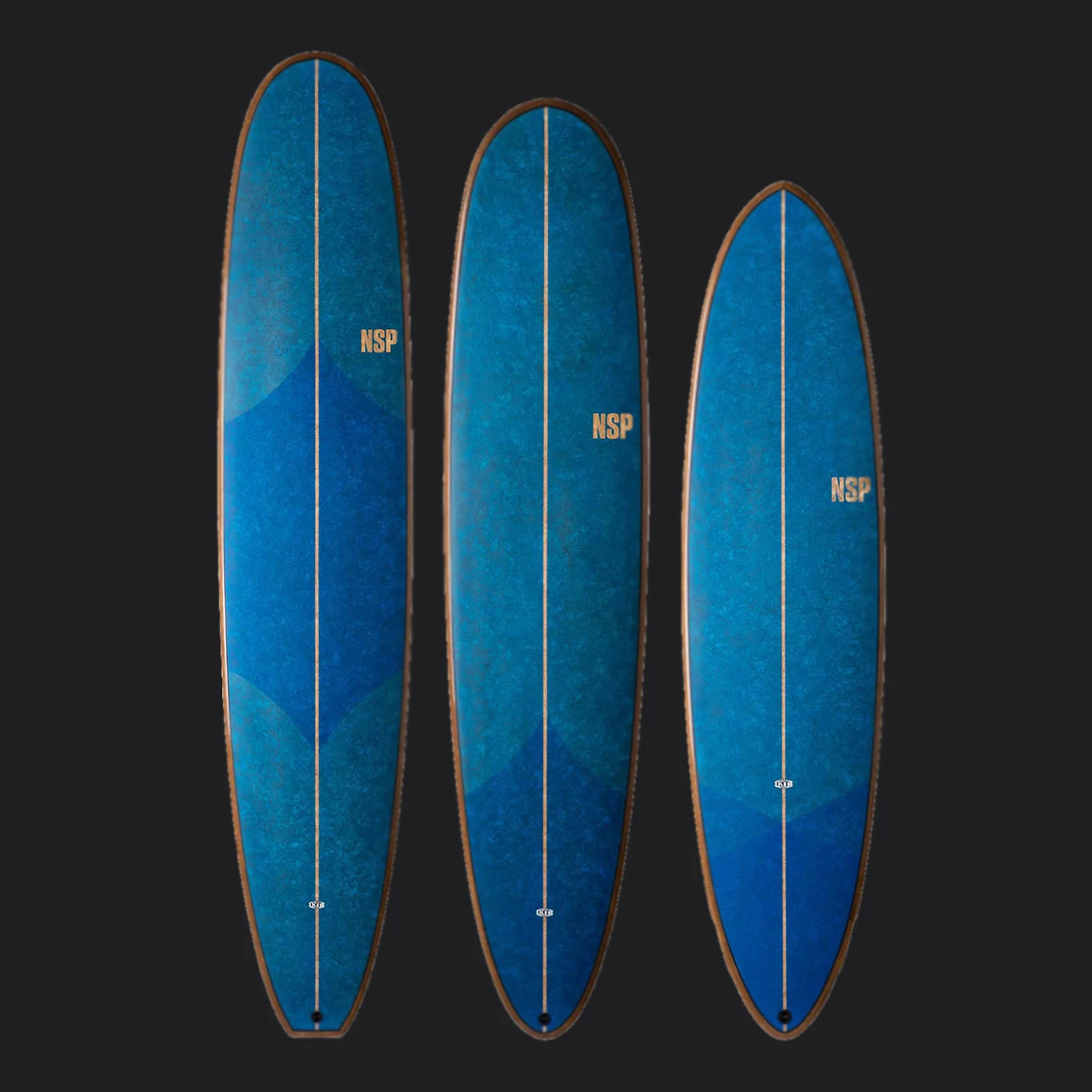 CocoFlax Construction
Cocoflax is NSP's award-winning construction that uses raw coconut husk fibres, eco-friendly bio-resin and flax rails. Coconut hush and Flax are highly durable and naturally reinforced fibres which allow a board construction with significantly less fibreglass, to reduce the overall carbon footprint.
Cocoflax boards are visually unique boards with an unmatched strength-to-weight ratio.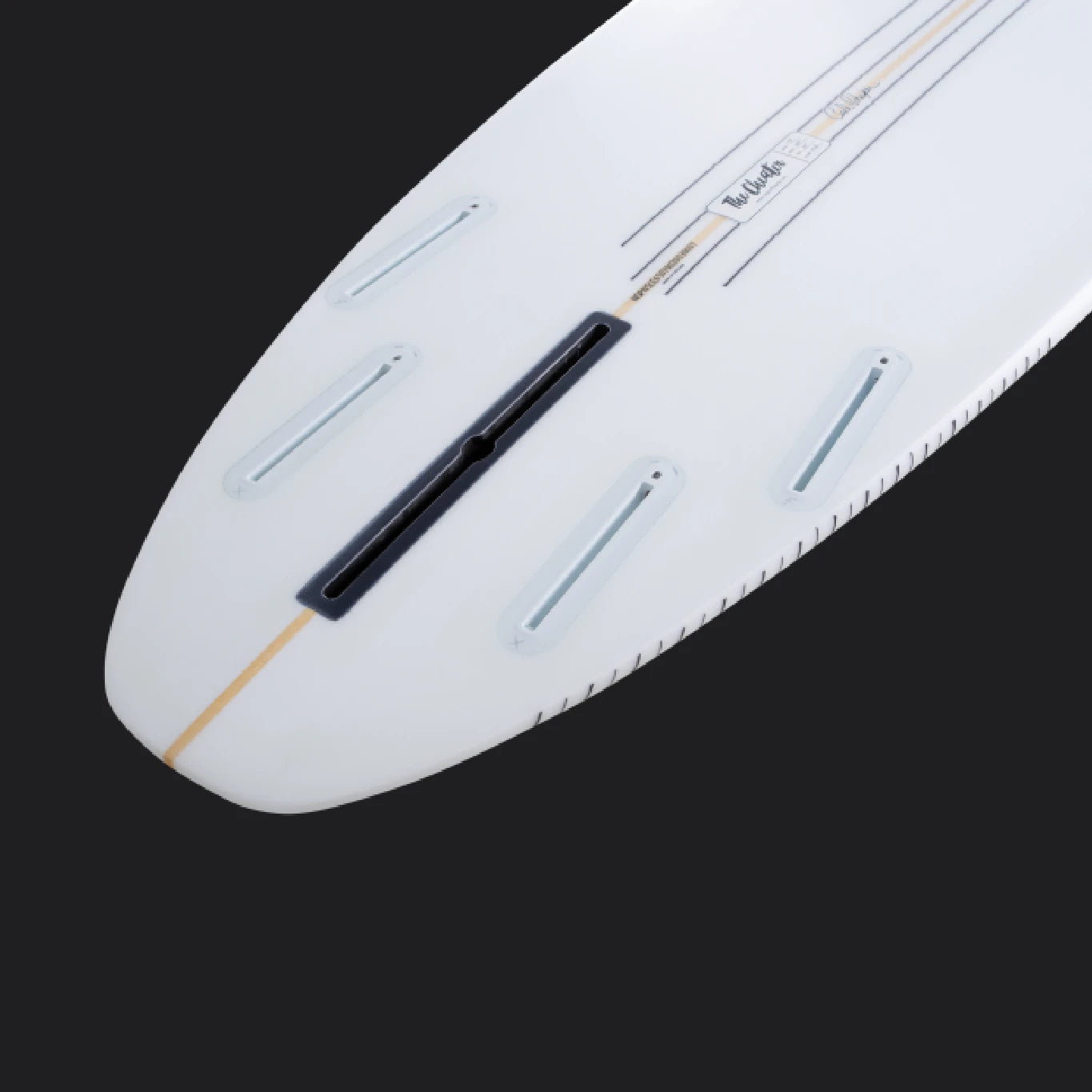 CSE Construction
CSE is NSP's high-performance custom surf epoxy lay-up with a UV-stable resin and satin rub finish. Clear UV-stable resin, CNC-cut and hand-shaped to detail by our very best craftsmen, CSE boards benefit from specific glassing schedules, carefully selected to get the most performance out of your CSE shape.
This way, the perfect construction and layer combination makes it into your Shaper's Union surfboard.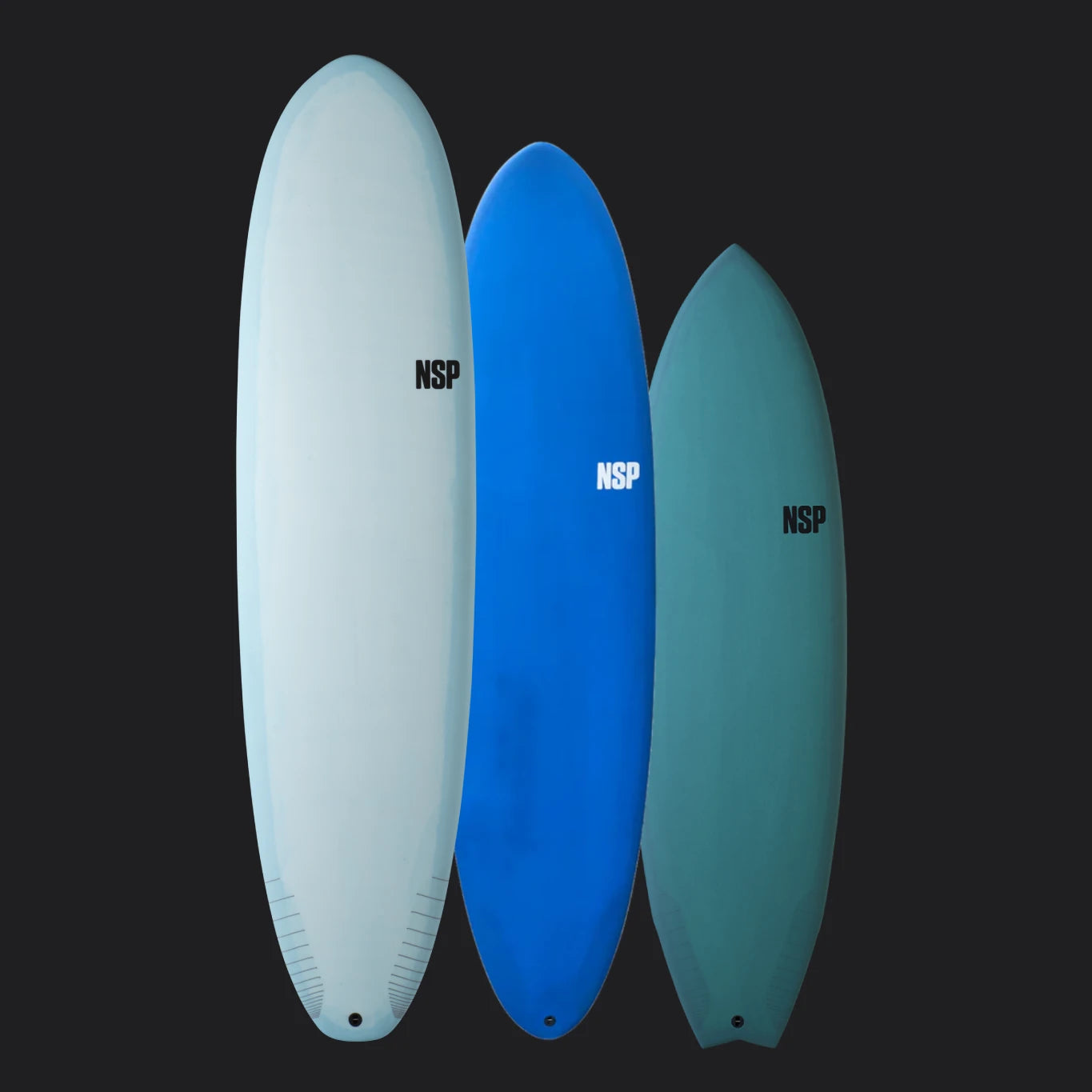 Protech Construction
Protech is the most attractive price point option, offering exceptional value and our personal favourite. The boards are very lightweight with a custom-style sanded finish and poppy colour tints, making for a visually appealing board with a premium feel. Protech boards have a secure cell EPS core produced inside a mould that reduces the amount of waste by 95% and ensures each shape gets replicated with high accuracy. All of the Protech boards have a set of thruster fins included with the longboards and Double Up with a 2+1 set. The fin boxes are compatible with all Futures base fins, allowing you to customize your board or change up your setup for different surf conditions.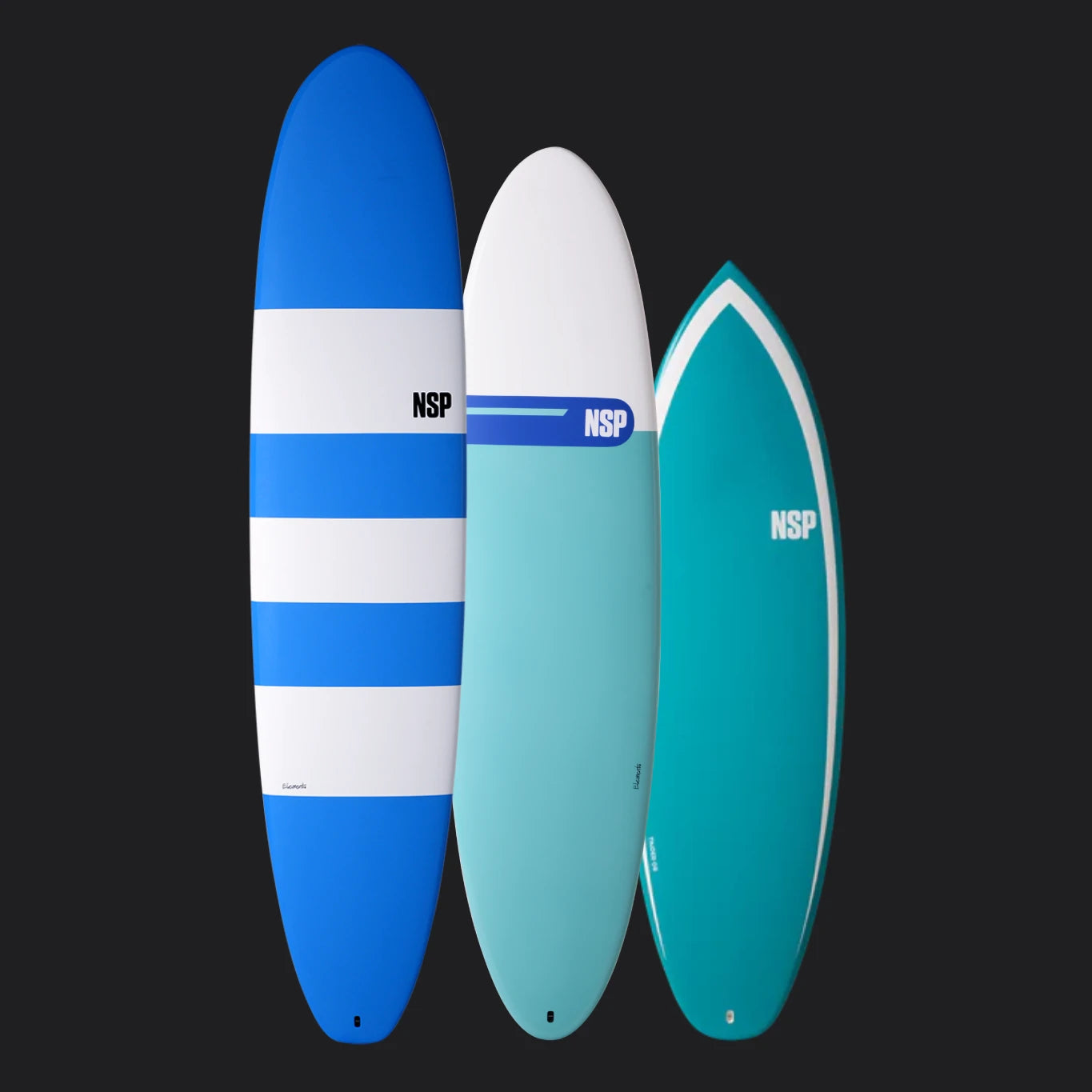 Elements Construction
Elements represents durability, great value and performance – the go-to board for weekend warrior that expect their board to last!
Elements boards have a secure cell EPS core, which reduces the amount of waste by 95% and ensures each shape gets replicated with high accuracy.
Add some beefed-up fibreglass layers and a polished durable gel coat wrap, and you have a lightweight, robust board that will last a lifetime.
Elements Construction is an excellent choice for the heavy-handed surfer looking for a durable board that will still perform well and is a great construction choice for longboards that are prone to knocks and bumps. Each board comes with a set of polycarbonate fins.
SUP Paddle and Race
In 2007 NSP was one of the first brands to produce SUPs based on the brand's original concept of performance and value.
Since 2013 NSP has produced some of the fastest SUP race boards on the planet, quickly racking up some of the most sought-after and prestigious titles with the help of national and international athletes.
Our core values have remained the same for almost 20 years, with hundreds of thousands of boards produced. NSP stays true to the vision of creating great performing, affordable, durable surf and paddle boards that allow everyone to catch more waves.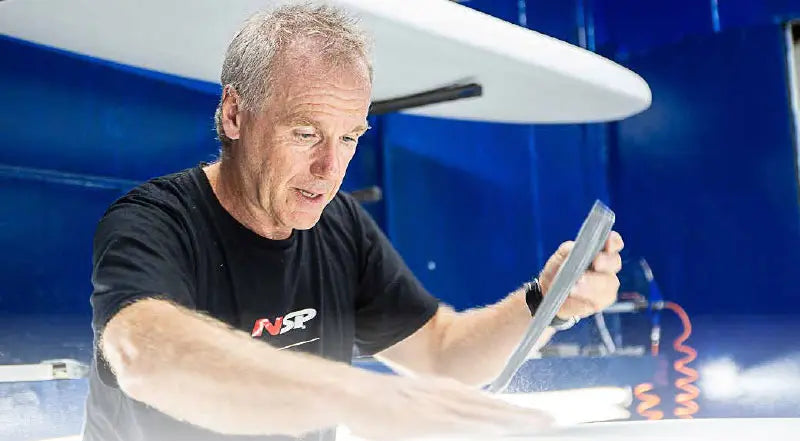 Alain Teurquetil - Race/Foil designer
In 2011, race designer Alain Teurquetil and his team produced their first production race boards. These boards were later selected by the ISA to be used in 2012 at the ISA SUP World Championships in Peru. From there, NSP, with its boards quickly gaining a reputation for speed, approached fellow shaper Dale Chapman to collaborate on a race program for the brand.
Under the condition that a top athlete would be signed to promote, test and help develop the race brand, Travis Grant joined the NSP team that same year and history was made.
Travis rode Alain's winning designs, and Dale shaped the prototypes into existence.  Alain, with the help of NSP's pro team, continues to design and develop the NSP race program.
NSP has some of the best watermen and women training and testing NSP products. Their findings, in combination with Alain's designs, create NSP products that perform and continue to be at the top of podiums around the world
Bodie von Almen - teamrider NSP USA
Young Gun, Bodie Von Allmen, was born in San Francisco, California, and currently resides in Lake Oswego, Oregon.  A born waterman, Bodie started surfing shortly after taking his first steps.  Living on Oswego Lake for most of his life, Bodie began wakeboarding, wake surfing, and stand-up paddling at an early age. He developed a deep love for paddling at nine years old and has been racing competitively ever since.
Bodie excelled quickly in the SUP racing community. When he was 10 years old, he started traveling to and competing in some of the biggest events on the West Coast, including the Pacific Paddle Games in Dana Point, California, and the Gorge Paddle Challenge in Hood River, Oregon.
When Bodie was15 years old he stepped up to the men's professional division competing with the "Top Dogs" in the sport at key races including the Gorge Paddle Challenge, the ICF World Championships in Hungary, the Carolina Cup, and his first event on the APP World Tour, the U.S. SUP Open in Santa Monica.